Do you also find it challenging to search for a desirable vacant flat? If yes, then you are at the right place because the Stack View Feature of the IndexTap app has brought you the fastest and most transparent transaction portal, which gets you a suitable property in no time.
Now let's take a few steps back. You are happy in your life, smiling and laughing out loud, and suddenly you got a reminder call from metropolitan cities like Delhi or Mumbai to step ahead with your studies or job. The very first thing you'll be doing is to look after a vacant flat for rent or sale as per your convenience, but the major drawback of these cities is the time trouble. But take it easy as we have come up with the Stack view solution that keeps your home hunt authentic and lets you explore properties just an IndexTap away.
Read on to know how our Online Realty Portal in India helps you explore something completely exceptional!
Benefits of Stack View Feature of IndexTap App
IndexTap is driven by CRE Matrix, which is a first-of-its-kind mobile application in India that allows a Stack view of inventory available at any commercial or residential building. It enables users to get a bird's-eye view to encompass a look at the sale or booking availability and prices of units in your dream house.
– Say no to unnecessary visits to your shortlisted properties! When looking for a property, it is common to encounter difficulties in determining its status, which would otherwise take a significant amount of time. However, with the stack view feature, you can easily figure out its availability status if it's empty, sold, or not yet registered, therefore, you can plan your visit accordingly.
– Another challenge that people face when finding a flat includes a huge deposit and higher rent, but with the stack view feature, you can easily get to know the authentic price for a perfect bid.
– Sitting at home, you can get the complete inventory of a building from its locality to its number of floors and their vacant flats. This authentic data on Stack View allows you to view the floor-by-floor stacking plans of residential or commercial properties on your mobile device. Thus, this unique feature helps you decide which floor you want to occupy, depending on you and your loved ones' preferences.
Know How to Use the Stack View Feature
After installing the IndexTap app on your device, you can simply select between rent, sale, or loan, and then opt from rental or commercial as per your requirement. Then you can opt for a city from the ­­dropdown list and select a locality or building to check out the inventory of your desired property.
Understand the stack feature graphics below: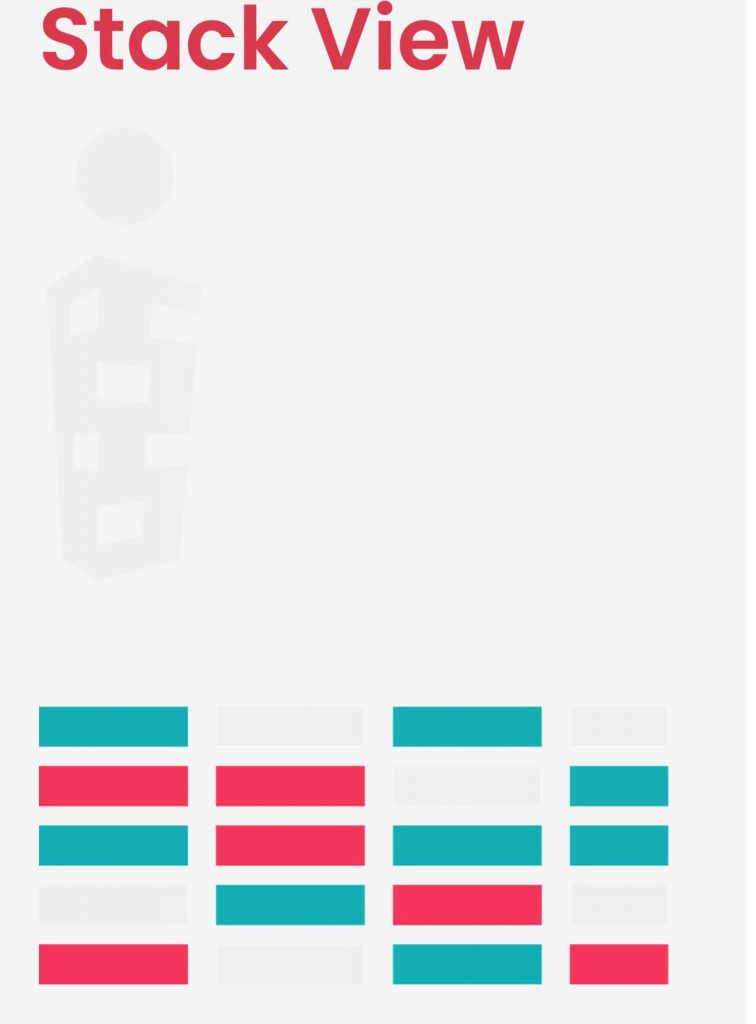 Flats marked in red are the sold-out inventory, wherein you can also check the past transactions of those flats.
Flats marked in green are the available inventory, which you can buy from the developer or the owner.
Flats marked in grey are the booked inventory, those flats which are booked but not registered yet.
In a nutshell, at IndexTap you'll find some of the best brokers in India who await you with all the details in hand to get your deal done with no delays. With cutting-edge algorithms and market research, the team of prominent realtors at IndexTap assists brokers, sellers/landlords, and buyers/tenants with appropriate data to actuate smart decisions.
For more exciting analyses and details on real estate, visit our website, www.IndexTap.com.