Safeguard your Home
with IndexTap Home
Security Services
Thank You
for contacting us.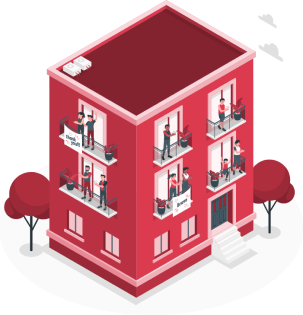 We will get back to you shortly
Get in Touch!
for Home Security Services
Why do you need Home Security?
For Property Security and Monitoring
To keep a check on your kids and family
To detect potential hazards
To keep close eyes on intruders and visitors
How does it work?

1
For Property Security and Monitoring

2
Connect them with Network

3
Monitor from anywhere on your phone
What is Covered?
Fire
Video analytics algorithms can be trained to recognize smoke patterns or flame characteristics and trigger alarms or notifications when such events occur.
Theft
When such activities are detected, the system can generate an alert to notify you of a potential theft in progress.
Real-time Surveillance
You can view the CCTV feeds in real-time to monitor activities as they happen.
Motion Detection
By configuring motion detection properly, you can focus on relevant activity, receive timely alerts, and efficiently utilize your CCTV system's resources.
Benefits of Installing Home Security
The presence of visible CCTV cameras acts as a deterrent to potential criminals.
Allows you to access live video feeds or recorded footage from your cameras through a mobile app or computer, enabling you to monitor your property from anywhere at any time.
Real-time alerts enable you to respond promptly to any suspicious activities or potential security breaches
Having a Home Security System in place can help prevent or minimize losses due to theft, vandalism, or false liability claims
Thank You
for contacting us.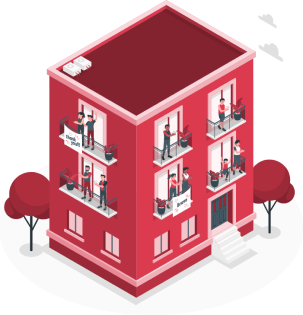 We will get back to you shortly
Get in Touch!
for Home Security Services
Frequently Asked Questions On Home Security Services
A home security system is a network of devices and components designed to protect your home from potential threats such as burglaries, fires, and emergencies. It typically includes sensors, alarms, cameras, control panels, and monitoring services.
A home security system works by monitoring your home and detecting potential security breaches or emergencies. Sensors placed on doors, windows, and other entry points detect unauthorized access, while motion sensors detect movement within the premises. When a breach is detected, the system triggers an alarm to alert homeowners and, in some cases, sends a notification to a professional monitoring service or directly to your smartphone.
A home security system may include various components such as:
• Control panel: The central hub that connects and controls the system.
• Door and window sensors: Detect when a door or window is opened or closed.
• Motion sensors: Detect movement within the monitored area.
• Surveillance cameras: Capture video footage of activities in and around your home.
• Alarms: Audible alarms that sound when a breach is detected.
• Keypad or key fob: Devices used to arm and disarm the system.
• Monitoring service: Professional monitoring services that receive alerts and dispatch emergency responders if needed.
• Smartphone app: Allows you to control and monitor your system remotely.
Home security systems can be either wired or wireless. Wired systems require physical connections between the components, while wireless systems use wireless communication technology such as Wi-Fi or cellular networks. Wireless systems are generally easier to install and more flexible in terms of component placement.
Yes, many modern home security systems offer remote monitoring capabilities. Through a smartphone app or web interface, you can access your system, view camera feeds, receive notifications, and control various features of the system remotely. This allows you to monitor your home's security status from anywhere with an internet connection.
Professional monitoring services can provide an additional layer of security by monitoring your system 24/7 and dispatching emergency responders when needed. However, it is not a requirement for all home security systems. Some systems offer self-monitoring options where you receive alerts directly to your smartphone and can take appropriate action.
The ease of installation depends on the type of system and your level of technical expertise. Wireless systems are generally easier to install as they require minimal wiring. Many home security systems are designed for DIY installation, providing step-by-step instructions and user-friendly interfaces. However, if you prefer professional installation, many security companies offer that service as well.
Yes, most home security systems offer customization options to suit your specific needs. You can typically choose the components you want to include, such as sensors, cameras, and alarms, and adjust settings based on your preferences. Some systems also integrate with other smart home devices, allowing you to create a comprehensive and interconnected security system.
Home security systems provide numerous benefits in terms of deterring burglaries, providing peace of mind, and protecting your home and loved ones. While the cost of installation and monitoring services should be considered, the potential savings from preventing losses due to theft or damage, along with the added sense of security, make home security systems a worthwhile investment for many homeowners.